Posted on
By Sweeney's Team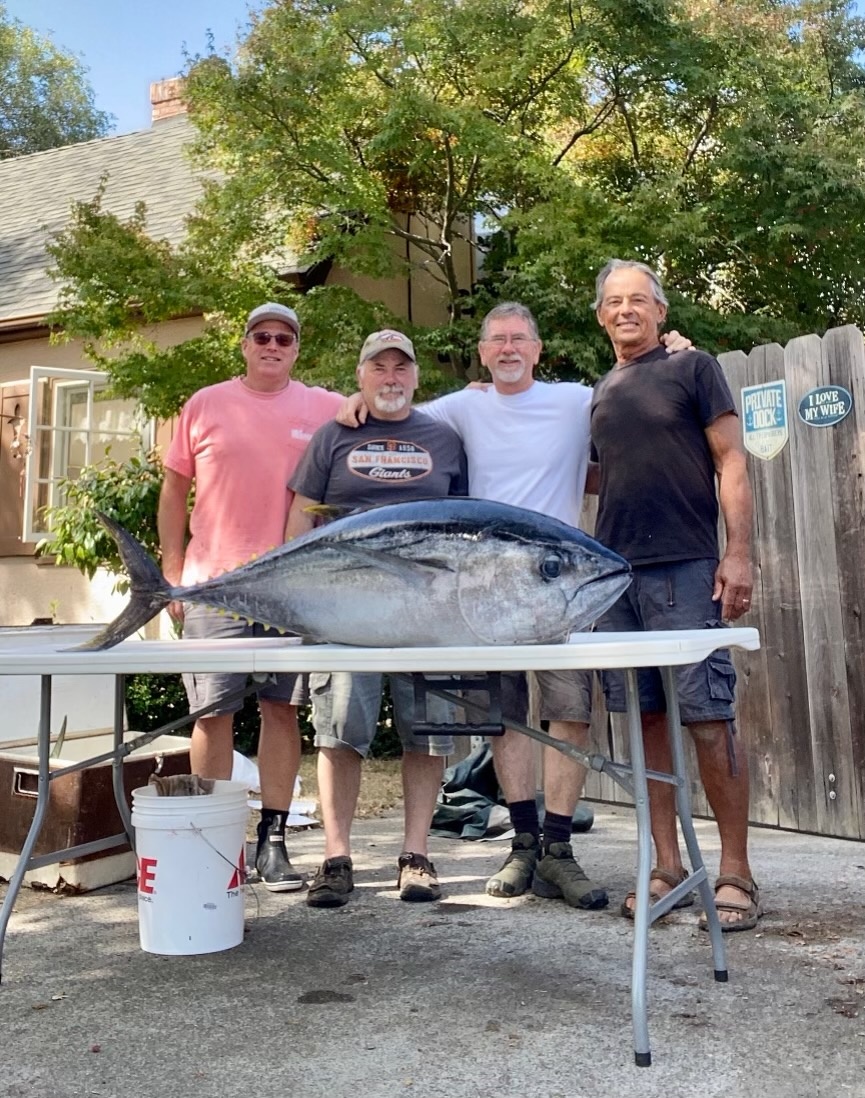 Chad's Fishing Report. Napa Hunting Update. BIG Clearance Sale on Summer Items. Gun Shop News.
The Napa River continues to be the best bet for our local waters. The Striper bite is wide open throughout the river. Bank anglers are experiencing great action on schoolies with keeper size thrown in the mix. As always anchovies and sardines are the bait of choice. Live bait like mudsuckers, and bullheads or our jumbo minnows are working well for bigger fish. We will try to keep a decent supply of jumbo minnows in stock this fall, come bye and pick some up. Trolling and casting Rattle Traps, LV 500's, and broken backs continues to produce stripers. Cooler temps this week will just keep that bite rolling along, Wow it's been a great couple of months of striper action, get out there and experience the action.  Need some help locating and catching some stripers, drop by the shop and talk with Tom or Chad for some pointers. 
Lake Berryessa still has a decent trout and king salmon bite going on! Some limits of trout are being caught with a few big kings mixed in. Trollers are finding fish in 40-90 ft spread out in all the favorite south end spots. Anglers are reporting finding a ton of bait! Find the bait and find the fish! Try trolling larger profile lures like Speedy Shiners, Kastmasters, Needlefish, or Rapalas. Come by and chat with Austin and get up to date info to help you catch fish.  Our guys hit Berryessa this week with some success, see their story in this week's report. Bass fishing still remains a tough task. I wish I had a better report here, but anglers that are pounding the water are only catching a few fish if any. The cooler temps will really help the bite. 
Clearlake, well low water levels and the extreme heat from last week has all but killed the summertime bite up there for now. The low water conditions is making it very interesting to even get on the water. The most recent report still had the launch at 5th street still open, and the public launch down in the Oaks open. However, due to low water levels and water quality concerns, the California Department of Fish and Wildlife has canceled all bass tournaments here through October. Probably look to the Delta or Berryessa for all your bass needs.
The hot tuna bite continued out of Fort Bragg. As most of you know Tom had an incredible adventure last week toping it off with a Giant Big Eye tuna and several albacore.  As I write this report Tom is back up there trying to duplicate the catch from last week. Hopefully we have another story of success. Come by and get the scoop from Tom, Sunday through Tuesday.  We had several customers head up to Fort Bragg this week with a ton of success, but one of our favorites Dave Douma had a GREAT day this week. Him and his crew landed several Albacore, Big Eye, and a Mahi-mahi.  

Congrats

 to Dave!!   
The Salmon bite has slowed down off our coast, but there is still fish to be caught. Anglers are still reporting catching limits but working hard for their fish.  As the Salmon start to make a major push up the rivers, the ocean bite will slow down. This week we got our first reports of Salmon being caught off Benicia. It's time to start throwing spinners off the Benicia shore lines.  We carry a wide variety of heavy spinners perfect for this bite. As the Salmon come up in our river some anglers will have hook ups while fishing for Stripers. Just remember that our river falls under all ocean regulations for Salmon. Single barbless hooks on all your lures if your targeting Salmon. If you get that incidental hook up on your Striper lures just make sure to release that Salmon. 

 
Deer season is in full swing in Northern Ca. Our local A zone is open through September 25th, and the B and C zones open their general season this coming weekend. Our local hunters are experiencing a pretty good season so far. Reports of acorns hitting the ground and signs of an early rut are getting our hunters excited. As the rut starts up, one of the best tactics is to use Blacktail in heat scents to fool that weary buck. We carry a product called Moccasin Joe Blacktail Deer Doe in Heat, give it a try.  We have all your deer hunting needs in stock, deer bags, knives, scents, and camo clothing. The last week of the season should be a good one, send me some pics and stories.  Success found one of our local young hunters, Abigal Frye of Napa shot her first buck. Patience and a perfect shot paid off for her on a beautiful buck, congrats to her and her family!! I know that will provide them with plenty of steaks and burgers, yum!!!
 
 
 
 
 
 

Duck Season is coming, we are starting to see some gear coming in. This week we received waders from Frogg Toggs, and apparel from Browning and Banded.  Look for more duck hunting supplies to come in the next month. As new product comes in, we have to make room, so some of our summertime goods are marked down to move out. This week we are cutting prices on all our footwear from Frogg Toggs,  take advantage of 50% off flip flops and water shoes.  Also, all water boards and kayaks and accessories are 50% off. Keep checking out our discount area for great savings.  

           

 
Gun Shop News 
*List does not reflect all in-stock ammo* 
Trijicon MRO
Sig Sauer P229 Elite 9mm
SIG SAUER ROMEO MSR + JULIET 3 MICRO
WALTHER P22
Its here!!!
ZASTAVA ZPAP M70
DISCLAIMER: POLYMER FURNITURE
New Ammo In-Stock 
Browning BPR Performance Rimfire
Hollow Point
40gr 1435 FPS
LOWERS ARE BACK IN STOCK 
Federal 12ga 2.75" #7.5
Migra 12ga 3" Blended #2/BB
Nosler 7mm Rem Mag 150gr 
Lead Free
New Firearms 
Sig Sauer P229 9mm

Kimber Stainless II .45 ACP

Kimber Custom II .45 AC

Sig Sauer P220 .45ACP
CZ P-01 9mm
10% Off All Christensen Arms Rifles!!!
  
Benelli Super Nova 12ga
Powder
| | |
| --- | --- |
| Hodgdon |   |
| US869 | Rifle Powder |
| Triple 7 | Muzzleloader Propellant |
| Pyrodex | Muzzleloader Propellant |
| | |
| --- | --- |
| Accurate |   |
| 5744 | Magnum Handgun Powder |
Reloading Bullets
| | | |
| --- | --- | --- |
| Caliber | Brand/Type | Nontoxic |
| 7mm | Hornady 150 gr cx | yes |
| .45 cal | Hornady 325 gr FTX | no |
| | | |
| --- | --- | --- |
|   |   |   |
| Winchester | 350 Legend 145gr FMJ |   |
| Sellier & Bellot | 7.62x39 124gr FMJ |   |
| Belom | 7.62x39 123gr FMJ |   |
| Sellier & Bellot | 30 Carbine 110gr FMJ |   |
| Hornady | 218 Bee 45gr HP |   |
| Federal | 7-30 Waters 120gr |   |
| Winchester | 25-06 Rem 115gr |   |
| Winchester | 284 Win 150gr |   |
| Winchester | 7mm Mauser 145gr |   |
| Aguila | 7.62x51 150gr FMJ BT |   |
| Winchester | 7.62x51 149gr FMJ |   |
| Hornady | 6.8mm SPC 120 gr |   |
| TulAmmo | 7.62x54 R 148gr FMJ |   |
| Sellier & Bellot | 7.62x54 R 180gr FMJ |   |
| Sig Sauer | 300 BLK 125 gr FMJ |   |
| Federal | 300 BLK 150gr |   |
| Sellier & Bellot | 5.56x45 55gr |   |
| Winchester | 223 Remington 55gr FMJ |   |
| PPU | 8mm Mauser 198gr FMJ |   |
| Sellier & Bellot | 7.62x51 147gr FMJ |   |
| Federal | 308 Win 150gr |   |
| Aguila | 308 Win 150gr FMJ |   |
| Winchester | 223 Remington 55gr FMJ |   |
| Hornady | 450 Bushmaster 250gr FTX |   |
| CCI | 22 WMR Shotshell |   |
| Winchester | 32 S&W Black Powder Blank |   |
| CCI | 44 SPL/MAG Shotshell |   |
| Winchester | 9x23 Winchester 125gr HP |   |
| Buffalo Bore | 38 Super +P 124gr |   |
| Speer | 9mm +P 124gr HP |   |
| Federal | 9mm 124gr HP |   |
| Barnes | 9mm 115gr HP |   |
| Hornady | Critical Defense Lite 9mm 100gr HP |   |
| Barnes | 9mm +P 115gr HP |   |
| SinterFire | 9mm 100gr HP |   |
| Sierra | 9mm 124gr HP | Y |
| Hornady | 9mm +P 124gr HP |   |
| Blazer | 9mm 115gr FMJ |   |
| Federal | Syntech 115gr |   |
| Magtech | 9mm 115gr FMJ |   |
| Sellier & Bellot | 40 S&W 180gr FMJ |   |
| Magtech | 40 S&W 180gr FMJ |   |
| Blazer | 40 S&W 165gr FMJ |   |
| Hornady | 40 S&W 180gr HP |   |
| Barnes | 40 S&W 140gr HP |   |
| Hornady | Critical Defense 40 S&W 165gr HP |   |
| Federal | 40 S&W 165gr JHP |   |
| Barnes | 380 80gr HP |   |
| Federal | 45 ACP 230gr JHP |   |
| Hornady | Critical Defense 45 ACP 185gr HP |   |
| Sig Sauer | 45 ACP 230gr JHP |   |
| Sellier & Bellot | 45 ACP 230gr FMJ |   |
| Winchester | 45 ACP 230gr FMJ |   |
| FNH USA | 5.7x28 40gr |   |
| Magtech | 32 S&WL 98gr FMJ |   |
| Speer | 357 Sig 125gr TMJ NOT 357 MAG |   |
| Sierra | 380 90gr JHP | Y |
| Ammo Incorporated | 380 90gr JHP |   |
| Magtech | 380 95gr FMJ |   |
| Aguila | 380 95gr FMJ |   |
| Federal | 380 95gr FMJ |   |
| Sellier & Bellot | 380 92gr FMJ |   |
| Hornady | 480 Ruger 325gr HP |   |
| Speer | 480 Ruger 275gr HP |   |
| CCI | 22 WMR 30gr HP |   |
| CCI | 22 Long 29gr NOT 22 LONG RIFLE |   |
| Blazer | 22 LR 38gr |   |
| Browning | 22 LR 40gr |   |
| Buffalo Bore | 38 Special 125gr JHP |   |
| Ammo Incorporated | 38 Special 125gr JHP |   |
| Winchester | 38 Special 130gr FMJ |   |
| HSM | 38 Special 158gr |   |
| Ammo Incorporated | 44 Mag 240gr JHP |   |
| Hornady | 454 Casull 200gr HP |   |
| Hornady | 17 Mach 2 17gr |   |
| Hornady | Superformance 223 Rem 55gr CX | Y |
| Hornady | Superformance 5.56 NATO 55gr GMX | Y |
| Winchester | 270 WSM 130gr | Y |
| Hornady | Superformance 7mm-08 Rem 139gr CX | Y |
| Hornady | Outfitter 270 Win 130gr CX | Y |
| Winchester | 270 Win 130gr | Y |
| Hornady | Outfitter 308 Win 165gr CX | Y |
| Winchester | 300 WSM 150gr | Y |
| Sig Sauer | 300 BLK 120gr | Y |
| Weatherby | 300 WBY MAG 180gr TTSX | Y |
| Hornady | Outfitter 7mm REM MAG 150gr CX | Y |
| Barnes | Vor-Tx 308 Win 168gr TTSX BT | Y |
| Hornady | Superformance 30-06 Sprg 165gr CX | Y |
| Hornady | Outfitter 30-06 Sprg 180gr CX | Y |
| Winchester | 30-06 Sprg 150gr | Y |
| Federal | 30-06 Sprg 165gr Barnes TSX | Y |
| Hornady | Superformance 6.5 Creed 120gr CX | Y |
| Remington | 12GA 3IN 1⅛OZ 2Shot | Y |
| Winchester | Blind Side 12GA 3IN 1⅜OZ 2Shot | Y |
| Winchester | 6.8 Western 162gr | Y |
| Winchester | 12GA 2¾IN 1OZ Sabot Slug | Y |
| Aguila | 12GA 2¾IN 1⅜OZ 0B |   |
| Rio | 12GA 2¾IN 1⅛OZ 6Shot | Y |
| Federal | 12GA 2¾IN 1⅛OZ 7½Shot | Y |
| Hevi-Shot | 12GA 3½IN 1¾OZ B Shot | Y |
| Fiocchi | 12GA 8.6mm Buckshot |   |
| Winchester | 10GA 3½IN 1⅝OZ BBB Shot | Y |
| Hevi-Shot | 12GA 3½IN 1½OZ 3Shot | Y |
| Hevi-Shot | Bismuth 12GA 2¾IN 1¼OZ 4Shot | Y |
| Winchester | 12GA 3IN 1⅛OZ 2Shot | Y |
| Hevi-Shot | 12GA 3IN 1¼OZ 4Shot | Y |
| Zuber | 20GA 2¾IN 15/16OZ 7½Shot  |   |
*List does not reflect all in-stock ammo*