Posted on
By Sweeney's Team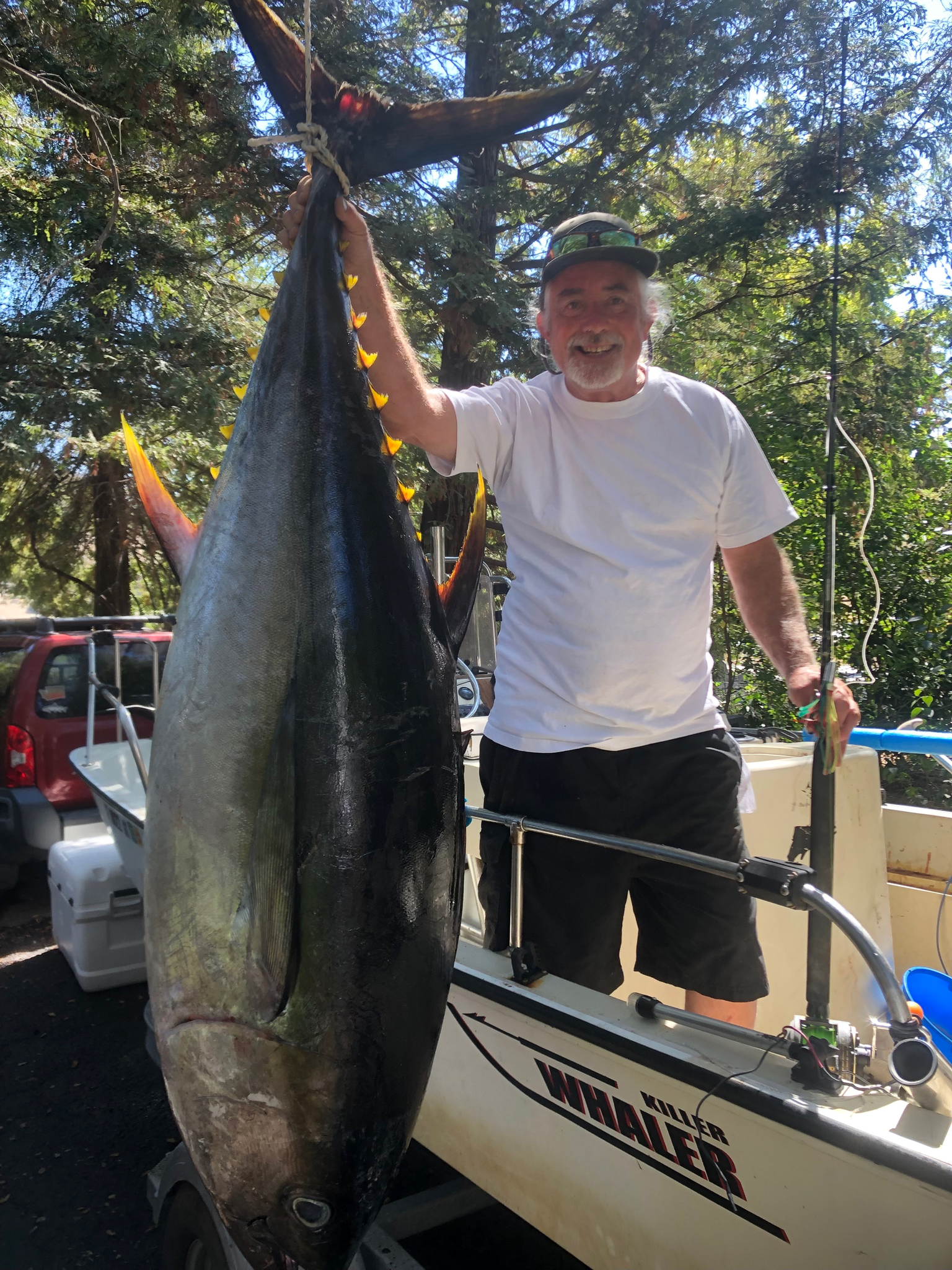 Napa River, Lake Berryessa, and Ocean Salmon Fishing Reports. Hunting and Gun Shop news.

Let's get started! 
Tom, our Salty Dawg was towed 5 miles into the ocean by this 182 lbs Big Eye Tuna. He was alone, on his 17ft Boston Whaler boat, but he managed to put the fish in the boat and make it back to the dock with a virtually empty gas tank. Congrats to our Salty Dawg Tom for this fantastic catch. He truly lived through Hemingway's "Old Man and the Sea" story. Except for the "Old" part :). Thank you for sharing Tuna Stakes with the crew, Tom. Sashimi grade fine dining, indeed. 
Napa River
The Striper bite continues to be red hot. Both the boat anglers and shore anglers are catching them really good. Cut Anchovies or Sardines are working best for schoolies, with an occasional keeper. Casting or trolling various swimbaits, and rattletraps. Guys reporting a good early morning and late evening top water bite, and wild things are working for stripers up to 7-8 lbs. Even the fly anglers are coming in and reporting a good streamer bite casting against tuly lines. 

The South end of the River is still producing a mixed bag of fish as well. We appreciate all the reports. Please send us your pics and we'll publish them here: [email protected] 
Lake Berryessa
Lake Berryessa has been fishing fantastic the past two weeks. Trout and king bite opened up, despite the conditions that have been thrown our way this year. Limits of trout with some kings have been the name of the game. Anglers have been trolling anywhere from 40 to 90 feet deep. Keep working hard and it will pay off.
Ocean Salmon Action
The Salmon bite is starting to slow down out in the ocean with a lot of fish starting to make their way up the river. However, if you wanted to go search for an ocean giant, now is the time to do so. Although anglers are having to search for their fish and put in the time, there are still limits of Salmon being caught. It continues to be one of the best Salmon seasons in recent memory. We have a good supply of trolling balls, and your favorite salmon lures. We also got our hands on a limited supply of tray Anchovies, hopefully, we can keep them coming in, but for now, we are limiting customers to 3 trays per visit. The tuna bite out of Fort Bragg is in full swing right now, and Albacore is being caught daily with a mix of Dorado being pulled in as well. Our Salty Dawg Tom went out last week and got a handful of albacore and even pulled in a 182LB Big Eye Tuna!!! Come down and chat with our Salty Dawg Tom for recent reports and techniques.
River Salmon Action
River salmon season continues to get better as the days go on. Angelers who are putting in their time in and working hard are seeing the pay off. We are seeing people catch sitting on anchor with Brad's Killer fish plugs, or Silvertrons, or getting into a hole and jigging. The troll bite will heat up here soon when we get a big push of fish into the river. Angelers up north in Cottonwood and Barge Hole area, are really working hard for the fish and getting a few here and there. The trout bite, however, is red hot up there. The fly fishing guys are nailing them daily. Come into the shop and grab our fly guide Robbie's card or go to catchhappy.co to get in touch with him. Keep working hard my river friends.
This week in hunting
Theres a lot of really nice bucks being killed here recently in A zone, guys are starting to see bucks getting ready to start the rut. Big bodies and swollen necks. With this heat wave, early mornings and late evenings are the best times to have a chance at real nice buck. Or, finding a water source, sit on it and wait for the deer to come to you. We are expecting to see cooler temperatures starting next week wich will be good for the A zone hunters.
This week at Gun Shop
KEL TEC KSG
STOEGER COACH GUN
WALTHER P22
Its here!!!
ZASTAVA ZPAP M70
DISCLAIMER: POLYMER FURNITURE
New Ammo In-Stock
Browning BPR Performance Rimfire
Hollow Point
40gr 1435 FPS
LOWERS ARE BACK IN STOCK
Federal 12ga 2.75" #7.5
Migra 12ga 3" Blended #2/BB 
Nosler 7mm Rem Mag 150gr 
Lead Free
New Firearms 
Sig Sauer P229 9mm
Kimber Stainless II .45 ACP
Kimber Custom II .45 ACP
Sig Sauer P220 .45ACP
CZ P-01 9mm
10% Off All Christensen Arms Rifles!!!

Benelli Super Nova 12ga
Powder
| | |
| --- | --- |
| Hodgdon |   |
| US869 | Rifle Powder |
| Triple 7 | Muzzleloader Propellant |
| Pyrodex | Muzzleloader Propellant |
| | |
| --- | --- |
| Accurate |   |
| 5744 | Magnum Handgun Powder |
Reloading Bullets
| | | |
| --- | --- | --- |
| Caliber | Brand/Type | Nontoxic |
| 7mm | Hornady 150 gr cx | yes |
| .45 cal | Hornady 325 gr FTX | no |
| | | |
| --- | --- | --- |
|   |   |   |
| Winchester | 350 Legend 145gr FMJ |   |
| Sellier & Bellot | 7.62x39 124gr FMJ |   |
| Belom | 7.62x39 123gr FMJ |   |
| Sellier & Bellot | 30 Carbine 110gr FMJ |   |
| Hornady | 218 Bee 45gr HP |   |
| Federal | 7-30 Waters 120gr |   |
| Winchester | 25-06 Rem 115gr |   |
| Winchester | 284 Win 150gr |   |
| Winchester | 7mm Mauser 145gr |   |
| Aguila | 7.62x51 150gr FMJ BT |   |
| Winchester | 7.62x51 149gr FMJ |   |
| Hornady | 6.8mm SPC 120 gr |   |
| TulAmmo | 7.62x54 R 148gr FMJ |   |
| Sellier & Bellot | 7.62x54 R 180gr FMJ |   |
| Sig Sauer | 300 BLK 125 gr FMJ |   |
| Federal | 300 BLK 150gr |   |
| Sellier & Bellot | 5.56x45 55gr |   |
| Winchester | 223 Remington 55gr FMJ |   |
| PPU | 8mm Mauser 198gr FMJ |   |
| Sellier & Bellot | 7.62x51 147gr FMJ |   |
| Federal | 308 Win 150gr |   |
| Aguila | 308 Win 150gr FMJ |   |
| Winchester | 223 Remington 55gr FMJ |   |
| Hornady | 450 Bushmaster 250gr FTX |   |
| CCI | 22 WMR Shotshell |   |
| Winchester | 32 S&W Black Powder Blank |   |
| CCI | 44 SPL/MAG Shotshell |   |
| Winchester | 9x23 Winchester 125gr HP |   |
| Buffalo Bore | 38 Super +P 124gr |   |
| Speer | 9mm +P 124gr HP |   |
| Federal | 9mm 124gr HP |   |
| Barnes | 9mm 115gr HP |   |
| Hornady | Critical Defense Lite 9mm 100gr HP |   |
| Barnes | 9mm +P 115gr HP |   |
| SinterFire | 9mm 100gr HP |   |
| Sierra | 9mm 124gr HP | Y |
| Hornady | 9mm +P 124gr HP |   |
| Blazer | 9mm 115gr FMJ |   |
| Federal | Syntech 115gr |   |
| Magtech | 9mm 115gr FMJ |   |
| Sellier & Bellot | 40 S&W 180gr FMJ |   |
| Magtech | 40 S&W 180gr FMJ |   |
| Blazer | 40 S&W 165gr FMJ |   |
| Hornady | 40 S&W 180gr HP |   |
| Barnes | 40 S&W 140gr HP |   |
| Hornady | Critical Defense 40 S&W 165gr HP |   |
| Federal | 40 S&W 165gr JHP |   |
| Barnes | 380 80gr HP |   |
| Federal | 45 ACP 230gr JHP |   |
| Hornady | Critical Defense 45 ACP 185gr HP |   |
| Sig Sauer | 45 ACP 230gr JHP |   |
| Sellier & Bellot | 45 ACP 230gr FMJ |   |
| Winchester | 45 ACP 230gr FMJ |   |
| FNH USA | 5.7x28 40gr |   |
| Magtech | 32 S&WL 98gr FMJ |   |
| Speer | 357 Sig 125gr TMJ NOT 357 MAG |   |
| Sierra | 380 90gr JHP | Y |
| Ammo Incorporated | 380 90gr JHP |   |
| Magtech | 380 95gr FMJ |   |
| Aguila | 380 95gr FMJ |   |
| Federal | 380 95gr FMJ |   |
| Sellier & Bellot | 380 92gr FMJ |   |
| Hornady | 480 Ruger 325gr HP |   |
| Speer | 480 Ruger 275gr HP |   |
| CCI | 22 WMR 30gr HP |   |
| CCI | 22 Long 29gr NOT 22 LONG RIFLE |   |
| Blazer | 22 LR 38gr |   |
| Browning | 22 LR 40gr |   |
| Buffalo Bore | 38 Special 125gr JHP |   |
| Ammo Incorporated | 38 Special 125gr JHP |   |
| Winchester | 38 Special 130gr FMJ |   |
| HSM | 38 Special 158gr |   |
| Ammo Incorporated | 44 Mag 240gr JHP |   |
| Hornady | 454 Casull 200gr HP |   |
| Hornady | 17 Mach 2 17gr |   |
| Hornady | Superformance 223 Rem 55gr CX | Y |
| Hornady | Superformance 5.56 NATO 55gr GMX | Y |
| Winchester | 270 WSM 130gr | Y |
| Hornady | Superformance 7mm-08 Rem 139gr CX | Y |
| Hornady | Outfitter 270 Win 130gr CX | Y |
| Winchester | 270 Win 130gr | Y |
| Hornady | Outfitter 308 Win 165gr CX | Y |
| Winchester | 300 WSM 150gr | Y |
| Sig Sauer | 300 BLK 120gr | Y |
| Weatherby | 300 WBY MAG 180gr TTSX | Y |
| Hornady | Outfitter 7mm REM MAG 150gr CX | Y |
| Barnes | Vor-Tx 308 Win 168gr TTSX BT | Y |
| Hornady | Superformance 30-06 Sprg 165gr CX | Y |
| Hornady | Outfitter 30-06 Sprg 180gr CX | Y |
| Winchester | 30-06 Sprg 150gr | Y |
| Federal | 30-06 Sprg 165gr Barnes TSX | Y |
| Hornady | Superformance 6.5 Creed 120gr CX | Y |
| Remington | 12GA 3IN 1⅛OZ 2Shot | Y |
| Winchester | Blind Side 12GA 3IN 1⅜OZ 2Shot | Y |
| Winchester | 6.8 Western 162gr | Y |
| Winchester | 12GA 2¾IN 1OZ Sabot Slug | Y |
| Aguila | 12GA 2¾IN 1⅜OZ 0B |   |
| Rio | 12GA 2¾IN 1⅛OZ 6Shot | Y |
| Federal | 12GA 2¾IN 1⅛OZ 7½Shot | Y |
| Hevi-Shot | 12GA 3½IN 1¾OZ B Shot | Y |
| Fiocchi | 12GA 8.6mm Buckshot |   |
| Winchester | 10GA 3½IN 1⅝OZ BBB Shot | Y |
| Hevi-Shot | 12GA 3½IN 1½OZ 3Shot | Y |
| Hevi-Shot | Bismuth 12GA 2¾IN 1¼OZ 4Shot | Y |
| Winchester | 12GA 3IN 1⅛OZ 2Shot | Y |
| Hevi-Shot | 12GA 3IN 1¼OZ 4Shot | Y |
| Zuber | 20GA 2¾IN 15/16OZ 7½Shot  |   |